FAREWELL TO A RARE & LOVELY GENTLEMAN
February 16, 2016 by dsm Weekly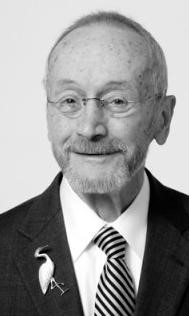 Friends of the late G. David Hurd have come up with a unique tribute for today's celebration of his life: Wear a lapel pin.
"Dave adorned his lapels with pins," recalls close friend Mary O'Keefe. "Some were just downright brooches," she adds, explaining that he had two reasons: 
* In quiet protest of the fact that humans are unlike most species, in which males are the more colorful.
* In support of his belief that we all have a responsibility to make our piece of the world a little more beautiful.  
A longtime business and civic leader, Hurd died Feb. 6 at age 86. Today, February 16th's events include a visitation in Capital Square's atrium from 5 to 8 p.m., with a "celebration of life" program at 6:45 p.m. A funeral service will be Wednesday at 10:30 a.m. at First Unitarian Church; seating is limited.
In 2012, Hurd was honored as one of dsm's Sages Over 70. Read the story here.
Originally Posted at dsm Weekly on February 16, 2016 by dsm Weekly.