LAMOND JOINS WINK AS VARIABLE ANNUITY PRODUCT DIRECTOR
July 25, 2017 by Press Release

 — FOR IMMEDIATE DISTRIBUTION — NEWS RELEASE
LAMOND JOINS WINK AS VARIABLE ANNUITY PRODUCT DIRECTOR
Wink, Inc.'s Latest Initiative Aids Them in Crushing the Competition
Des Moines, Iowa. July 25, 2017– Peter Lamond has been named Variable Annuity Product Director for Wink, Inc. where he is responsible for introducing and managing Variable Annuities (VAs) on the AnnuitySpecs tool. Wink is the competitive intelligence firm behind the #1 source for annuity and life insurance product information, which has specialized in providing annuity product data to the industry for nearly 13 years, at www.LookToWink.com.
"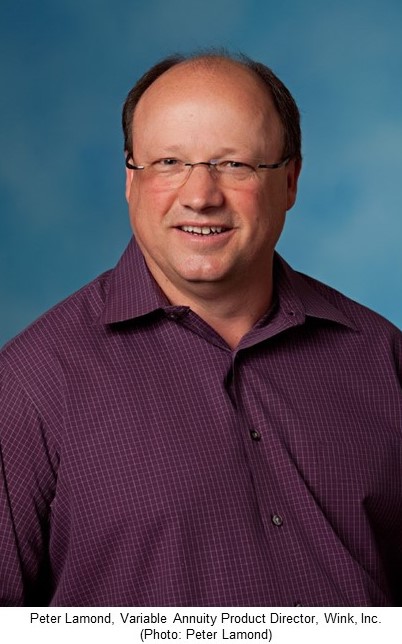 After working with Sheryl and the team from Wink for about 10 years, I feel privileged to have the opportunity to join them in this exciting time," said Lamond. "The company is the industry leader in providing quality Annuity information, I'm looking forward to being part of the team and applying that same excellence as we branch-out into the Variable Annuity space."
Lamond reports to Victoria Peterson, Vice President of Operations, and is a member of her senior leadership team.
"As we expand our focus to all types of annuities and life insurance, Peter's wealth of experience will help us to realize our key initiatives for 2017 and beyond," said Peterson. "In addition to adding Variable Annuities to the AnnuitySpecs tool, Peter will maintain relationships that will aid Wink in expanding our product offerings going-forward."
Lamond brings nearly 20 years of annuities experience to Wink. At Pacific Life Insurance Company, he held positions of increasing responsibility, including Senior Market Research Analyst. Lamond began his career in customer service for Pacific Life in 1999.
Lamond has a Series 6 and Series 63 and is an established member of the competitive intelligence community.
For more information, contact the Wink team at http://www.LookToWink.com/.
Wink, Inc. is the company behind the most comprehensive life insurance and annuity due-diligence tools, AnnuitySpecs and LifeSpecs at www.LookToWink.com.
The staff of Wink, Inc. has the combined experience of more than six decades working with insurance products. Based in Des Moines, Iowa, the firm offers competitive intelligence and market research in the life insurance and annuity industries; serving financial services professionals, distributors, manufacturers, regulators, and consultants on both a domestic and global basis.
Sheryl J. Moore is president and CEO is the guiding force behind AnnuitySpecs and LifeSpecs. Ms. Moore previously worked as a market research analyst for top carriers in the indexed life and annuity industries. Her views on the direction of the market are frequently heard in seminars and quoted by industry trade journals.
July 25, 2017
Des Moines, IA
(855) ASK-WINK
Originally Posted by Press Release.