TOTAL OVERALL INDEXED LIFE SALES (2018)
May 20, 2019 by Jamie Johnson
In 1998, Wink began tracking indexed life sales by insurance carrier each year in our quarterly Wink's Sales & Market Report. We compiled all of the data from 1998 – 2018 to  establish the top 10 indexed life carriers for the  "Total Overall Indexed Life Sales." 
Pacific Life Companies is the leader for Total Overall Indexed Life Sales with aggregate sales of over $1.99 billion in target premiums. Included in the top five sellers of indexed life over this 20-year period are Global Atlantic Financial Group, Transamerica, National Life Group, and Minnesota Life-Securian.
Each carrier reports its quarterly sales to Wink to be published in Wink's Sales & Market Report.  Indexed life sales include target premiums for universal products, full premiums for whole life products, and 10% of single premiums for true single premium life designs.  
Click HERE more information on Wink's measurement for indexed life sales.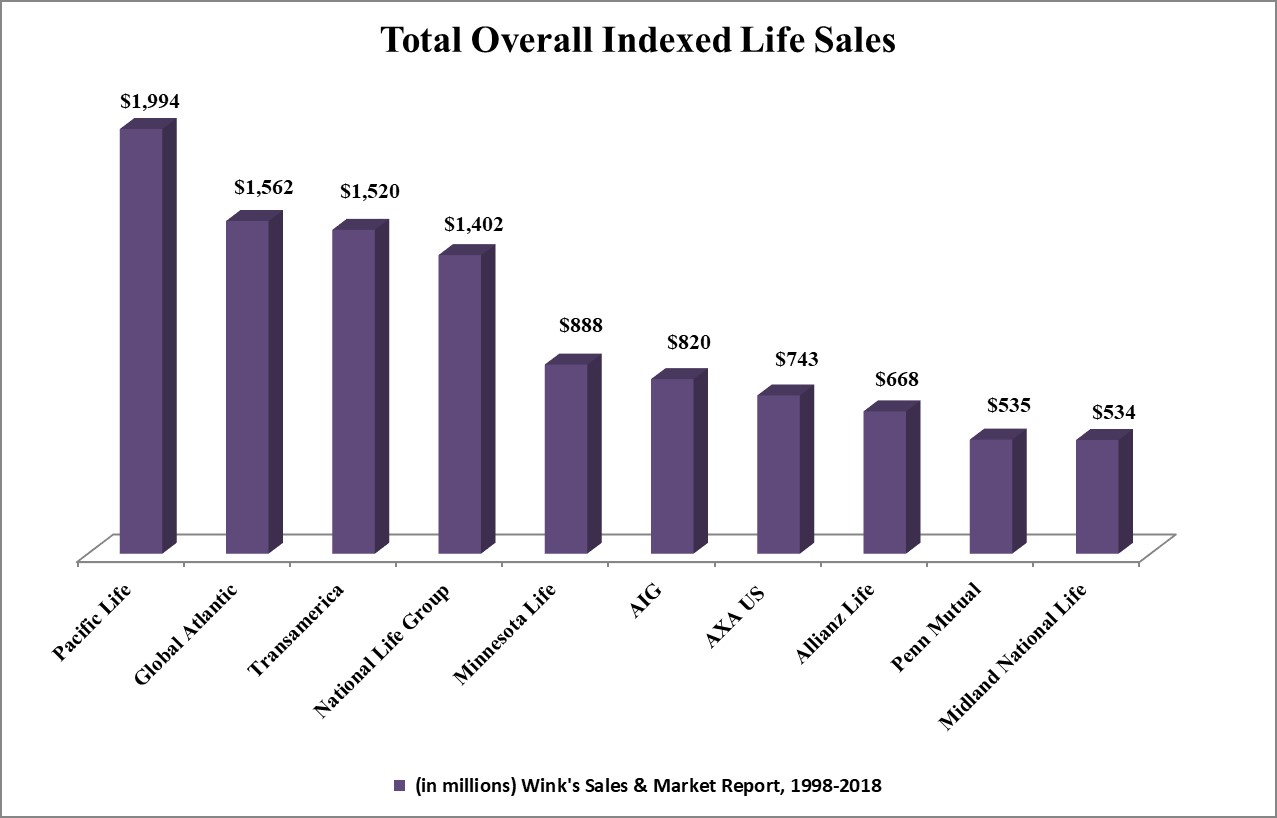 About Wink's Sales & Market Report
Wink's Sales & Market Report has served as the insurance industry's #1 resource of indexed insurance product sales since 1997. Providing sales by product, company, crediting method, index, distribution, surrender charge period, and more. Wink's Sales & Market Report expanded to cover all fixed deferred annuity products in 2015, all non-variable cash value life insurance products in 2017, and structured annuities in 2018.
About Wink, Inc.
Wink, Inc. a competitive intelligence and market research firm based in Des Moines, Iowa, operating in the life insurance and annuity industries, serves product manufacturers, distributors, regulators, consultants, and financial services professionals on both a domestic and global basis. Wink, Inc. is the company that distributes resources such as this sales report, along with the competitive intelligence tools AnnuitySpecs and LifeSpecs at www.LookToWink.com.