WINK RELEASES FIRST-IN-THE-INDUSTRY INDEX SALES INTELLIGENCE
June 12, 2019 by Press Release

— FOR IMMEDIATE DISTRIBUTION —
NEWS RELEASE
WINK RELEASES FIRST-IN-THE-INDUSTRY INDEX SALES INTELLIGENCE
Wink, Inc. Providing Indexed Annuity and Indexed Life Sales by Individual Index
Des Moines, Iowa. June 12, 2019– Wink, Inc., the company behind the insurance industry's #1 resource for indexed annuity sales data since 1997, has turned their attention to reporting indexed annuity and indexed life sales at an index level, for each index available.
"Since 2012, hybrid indexes have driven indexed annuity product development, and that trend is gaining momentum with indexed life as well" exclaimed Sheryl J. Moore, president and CEO of both Moore Market Intelligence and Wink, Inc. She continued, "Insurance companies used to be protective about the sales of volatility-controlled/proprietary/bespoke indices because they were new; now product manufacturers want this information quid pro quo."
As a result of product manufacturers' evolving attitudes about the proprietary nature of these indices over recent years, Wink, Inc. made a decision to respond to their requests for intelligence.
This new report will provide data and insight on the following:
Indexed Annuity and Indexed Life Sales by Index-

More than a decade of historical sales for each index;
Sales by Index by year;
Sales by Index by quarter.
Product Information-

Which companies use which indices;
Products/crediting methods index is offered on;
Indexed crediting criteria (how frequently interest is credited, how it is measured, how it is limited).
Index Intelligence-

Index launch date;
Index ticker symbol;
Index components;
Index target volatility;
Whether the index is Excess/Total/Price Return;
Index classification (multi-asset or equity);
Rebalancing frequency;
Index leverage;
Index performance drag;
URL link to index values.
Moore commented, "This report, capturing over 60,000 data points, is an invaluable resource for those interested in hybrid indices on insurance products! This is a must-have for any product management team."
The annual report with 2018's data will be distributed within the month.
Wink, Inc. is offering a limited period discount to the new Wink's Index Intelligence Report.
Those interested in a subscription can contact Wink's support team at (855) ASK-WINK, or support@winkintel.com.
****
About Indexed Annuities
Indexed annuity sales in 2018 exceeded $68 billion of premium. Continued low interest rates, coupled with market volatility, have driven sales from fixed annuities to index. In turn, the catastrophic market events of 2008 have driven sales from variable annuities, to principal-protected indexed annuities. Sales of indexed annuities in 2019 are again expected to reach record levels.
About Indexed Life
Like their annuity brethren, indexed life sales in 2018 set records; $2 billion of target premium. Continued low interest rates and stringent reserving requirements have driven sales from guaranteed universal life to indexed life. Sales of indexed life insurance for 2019 are on target to attain record levels.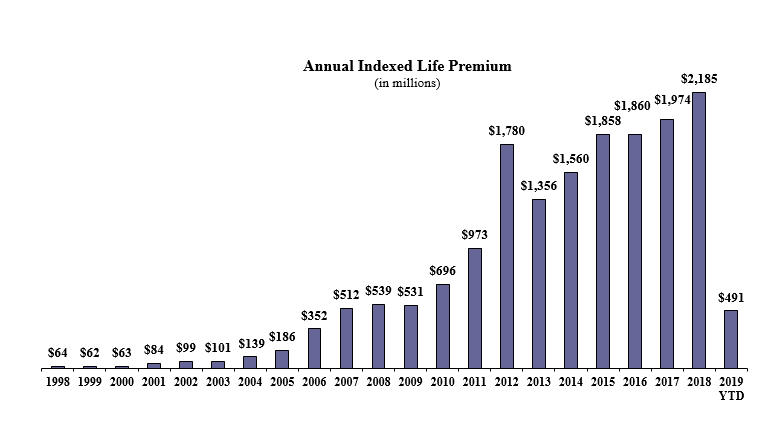 ****
For more information, go to www.WinkIntel.com.
Wink, Inc. is the company behind the most comprehensive life insurance and annuity due-diligence tools, AnnuitySpecs and LifeSpecs at www.WinkIntel.com. Wink, Inc. is the distributor of the quarterly Wink's Sales & Market Report. Serving as the insurance industry's #1 resource of indexed insurance product sales since 1997, this report provides sales by product, company, crediting method, index, distribution, surrender charge period, and more. Wink's Sales & Market Report expanded to cover all deferred annuity products in 2015, all deferred variable annuity products in 2019 and all non-variable cash value life insurance products in 2017.
The staff of Wink, Inc. has the combined experience of more than 175 years working with insurance products, more than a decade of which is specifically in competitive intelligence. Based in Des Moines, Iowa, the firm offers competitive intelligence and market research in the life insurance and annuity industries; serving financial services professionals, distributors, manufacturers, regulators, and consultants on both a domestic and global basis.
Sheryl J. Moore is president and CEO is the guiding force behind Wink, Inc. Ms. Moore previously worked as a market research analyst for top carriers in the life insurance and annuity industries. Her views on the direction of the market are frequently heard in seminars and quoted by industry trade journals.
June 12, 2019
Des Moines, IA
(855) ASK-WINK
Originally Posted by Press Release.