Getting to know our Connoisseur of Code
December 6, 2021 by Wink's Intel Pros
Jason J. Pierce, our Connoisseur of Code is the most quick-witted and smart-alecky of the Wink team, nearly worked as a geographic information systems technician in high school. What?!?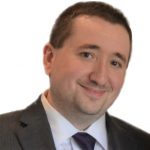 He lives for Thai Red Curry but is just as likely to be caught geeking out on Rosetta Stone with the language of the month. Has our VP of Engineering piqued your interest? Wonder no more! Click HERE
Originally Posted at Wink, Inc. on December 2021 by Wink's Intel Pros.