Reprint: Annuity Quick Reference Guide #AnnuityAwarenessMonth
May 31, 2022 by Sheryl J. Moore
Many have never heard of annuities. Perhaps the easiest way to grasp the concept of annuities is to first discuss life insurance products. Life insurance is a contract that pays a benefit in the event you die unexpectedly. In turn, annuities are a contract that pay a benefit in the event you live too long. Annuities are a vehicle that is used to save for one's retirement, just as some use certificates of deposit (CDs) and 401(k)s. At a given point in every annuity, you can change it from a retirement savings vehicle, to a retirement income stream, through a process called annuitization.
Annuities are vastly unheard of and also misunderstood. These retirement products have been given a bad rap, mostly as a result of competing financial services vehicles, and the advisors that offer them. Yet, the top concern of Americans continues to be guaranteeing a minimum level of income during their retirement years.
Coincidentally, annuities are the only financial instrument that can guarantee the purchaser an income for the rest of their life.
Annuities have long been known for their tax deferral qualities. Purchasers can use money that has not yet been taxed, to purchase the annuity. Thereafter, taxes are not paid until money is withdrawn from the contract. Plus, annuity purchasers earn interest on their interest. AND, those that purchase annuities earn interest on the tax savings that they would have paid as income taxes.
This is often referred to as the "triple compounding" benefit, which is available through annuities.
Here are some features of annuities, that can be used as a reference for those wanting more information about these valuable retirement planning and retirement income products.
If you require additional information about annuities, please reach out to your financial professional. If your financial professional does not offer annuities, search for a professional that does. Annuities can be an integral part of your retirement savings plan. If you are interested in exploring if annuities are right for you, and your financial professional does not offer annuities, they may not necessarily be acting in your best interests. Reliable and credible information about annuities is available through third-party market research firms that do not endorse any company or product, via an internet search of the word "annuity."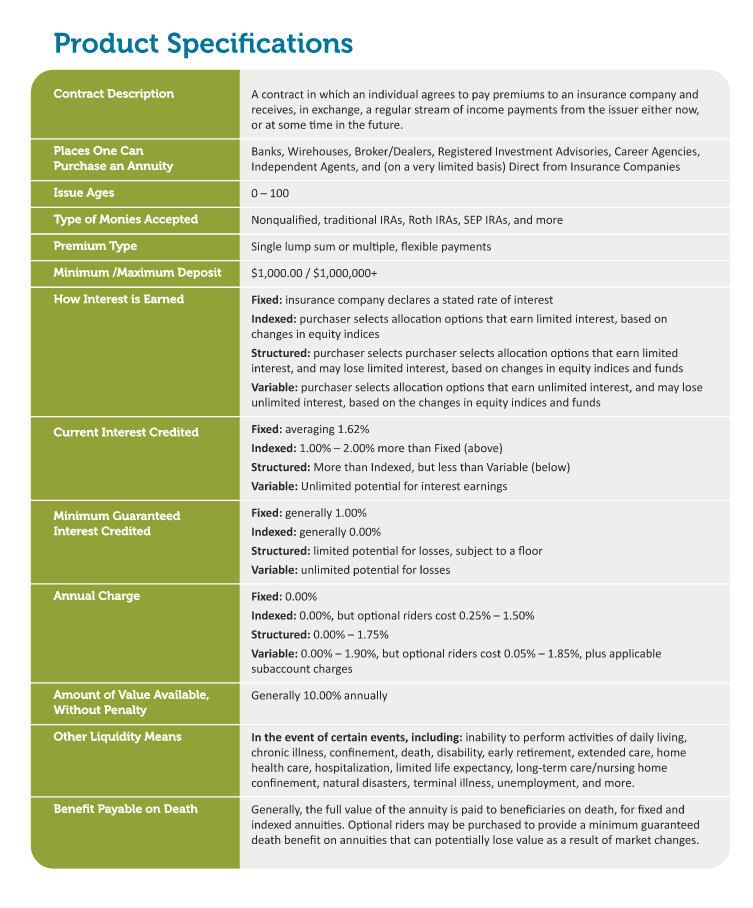 Sheryl Moore is President and CEO of the life and annuity market research firm of Wink, Inc. Her company provides competitive intelligence, market research, product development, consulting services and insight to select financial services companies. She may be reached at sjm@intelrockstar.com.