Annuity Awareness Month Edition
June 29, 2022 by Wink's Intel Pros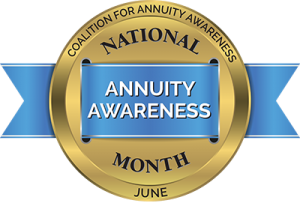 June is Annuity Awareness Month! We reprinted our Chief Storyteller, Sheryl Moore's most requested annuity-focused articles all month long; they are indicated with "reprint" in the title.  You'll find these timeless articles are still relevant today.
Annuity Awareness Month aligns perfectly with Wink's top priority of ensuring that the public has the needed information and tools that are necessary, to succeed in their search for retirement plan and life insurance solutions. We are excited to have an event to shed light on reliable, accurate, and credible sources for fact-checking information on annuities!
Sheryl's career started at a small insurance company that was the industry's top seller of indexed insurance products. "While working there, I invested in the 401(k) plan as the company had a 4% match and there was a lot of pressure to participate. I didn't understand where I should allocate my money so following the imprudent advice of co-workers, I went to the plan website to "just pick something," Sheryl explained. 
 She continued, "As a result, I wound up losing a ton of money when the Dot-Com bubble burst! I had no idea at the time that you could lose money in a 401(k) plan.  So, after complaining to my boss that I didn't want to lose any more money and he suggested that I buy an indexed annuity.  I didn't know what an indexed annuity was but, when he explained it to me, it sounded awesome!" 
We believe Annuity Awareness Month couldn't come at a better time and encourage you to share all things awesome about annuities this month! 
-The Wink Team
Originally Posted by Wink's Intel Pros.