The Evolution of the Index with Sheryl Moore: July 13th
July 12, 2022 by Jamie Johnson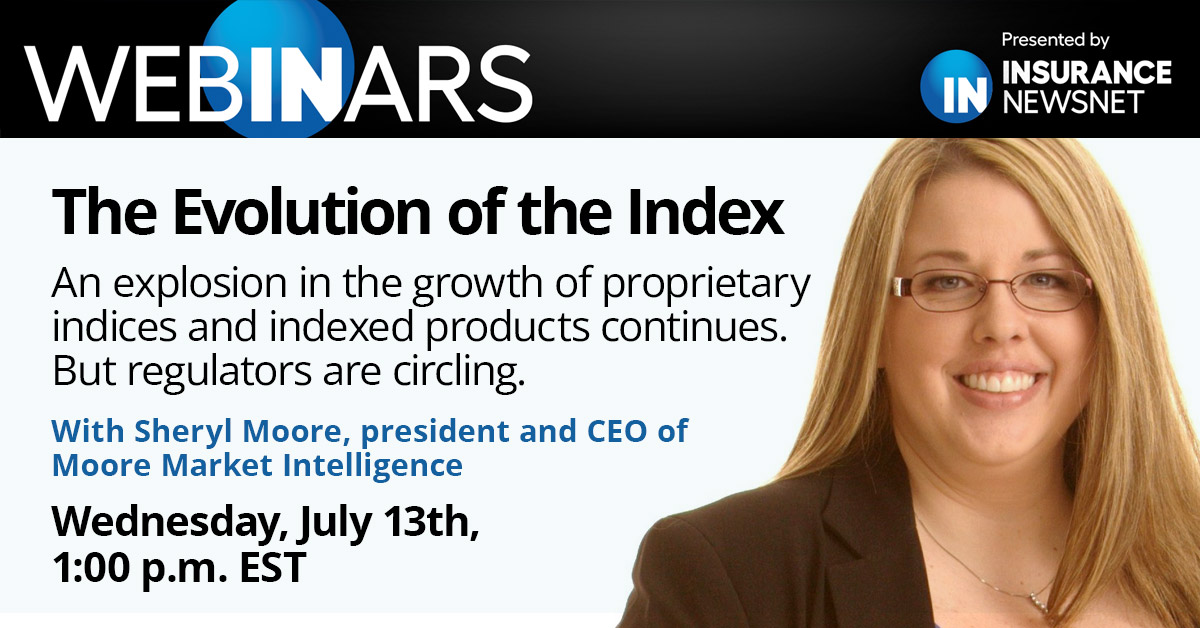 An explosion in the growth of proprietary indices and indexed products continues. But regulators are circling.
What will the next generation of indexed products look like? Indexed products are popular, offering apparent upside and little downside. But regulators are wary. The growth of proprietary indices has critics claiming consumers are confused and misled by rosy illustrations that rarely come true.
On July 13 at 1 p.m. EDT, our webinar guest will be one of the industry's leading experts on the trend of indexed products. We'll examine this trend and explain what you need to be aware of to stay on the right side of regulators.
Sheryl Moore is president and CEO of Moore Market Intelligence. Sheryl is the founder and creator of several competitive intelligence tools, including Wink's AnnuitySpecs and LifeSpecs tools, as well as Wink's Sales & Market Report.
Topics to be discussed include:
• How are indexed annuities and indexed universal life products evolving?
• What are the biggest concerns with these indexed products?
• What do agents need to be aware of as regulation concepts change?
• What are some big issues before the courts related to indexed products?
• What regulation issues could be making a comeback?
Jul 13, 2022 01:00 PM, Eastern