Fixed Indexed Annuities Celebrate 20 Years
January 19, 2015 by Jack Marrion, Advantage Compendium Ltd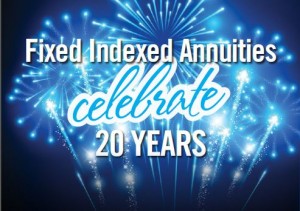 The fixed (equity) indexed annuity (FIA) was introduced 20 years ago. Why then? One big reason is that the psychology of the times was right. 1994 had been a rocky year — bond fund returns were poor, the S&P 500 ended the year on a down note, and many stock funds and variable annuities had marginal or negative returns. In addition, the 8% and 9% yields consumers realized on traditional fixed annuities during the previous decade appeared to be over. From a historic point of view, interest rates were on a long downward slope, and insurers were looking for an annuity that could continue to deliver respectable returns. They picked a good one.
Over the last 20 years, FIAs have been a part of the longest and strongest bull market in U.S. history, as well as witness to two of the worst bear markets since the Great Depression. Through it all, indexed annuities have done exactly what they were designed to do — provide the potential for a little more interest than a stated-rate annuity would pay while still protecting premium and credit interest from market risk. Here are a few highlights from that history of protection and potential.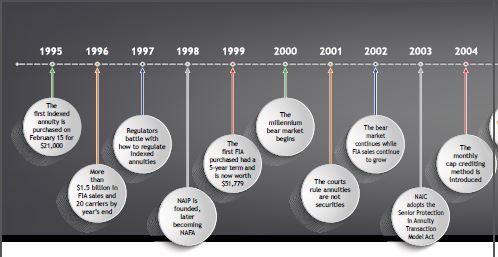 1995
Due to falling bond yields and a rocky stock market in 1994, Keyport Life investigates taking interest credited above and beyond the minimum guarantee and using it to buy call options on an equity index. The thinking was that this creation would still have the guarantees of a fixed annuity, while also offering the potential for more interest than a stated-rate annuity. With the assistance of Genesis Financial of Canada, in February 1995, Keyport Life introduces the first equity-linked indexed annuity, the KeyIndex.
The first indexed annuity was purchased on February 15 for a premium of $21,000 by a 60-year-old Massachusetts gentleman. At the end of the 5-year term the account value was $51,779.
In June, Lincoln Benefit Life introduces the Savers Index.
The year ends with an excess of $130 million in sales.
1996
The number of carriers offering indexed annuities picks up steam throughout the year, gaining popularity among the market-targets savers looking for higher interest rates and nervous investors who probably shouldn't have been in the market in the first place, but who still wanted more than their bank account is paying.
In September, Jackson National Life launches the ELI, which offers the S&P 500, S&P 400, Nasdaq 100 and the first-ever proprietary index, the JNL International Index.
Delta Life and Annuity unveils a FIA in December with the Index Advantage International Index, the first managed proprietary index that recalibrates the component mix annually.
The year ends with more than $1.5 billion in sales and 20 carriers offering fixed indexed annuities, with 10 carriers entering the market in the fourth quarter alone.
1997
Regulators grapple with how to regulate indexed annuities. In March, Oklahoma lifts a moratorium on indexed annuity registrations that had been in place since the previous summer. In August, North Dakota issues Bulletin 97-2, stressing that balancing language must be used in all FIA product materials and ads. New York regulator Rick Morese tells the National Underwriter, "It only takes one agent to misrepresent or overemphasize features in equity-indexed products that will result in a court case where the issue is raised of whether the product should be registered. We are dealing with a product that could be a ticking time bomb."
The Securities and Exchange Commission (SEC) issues Concept Release No. 33-7438, requesting comments as to whether indexed annuities should be registered as securities. After the comment period ended in 1998, the SEC did not change its position, thus letting the interpretation that fixed indexed annuities are not securities stand.
The year ends with more than $3 billion in sales and 37 carriers offering FIAs.
1998
The SEC concludes the comment period and does nothing. The Asian financial crisis causes option costs to leap, resulting in fall participation rates that are 30% to 40% lower in October than they were in June, causing fourth-quarter sales to drop 11% from the previous quarter.
At the end of 1997 more than half of FIA sales were in annuities with surrender periods of seven years or less. By the end of 1998, roughly half of sales are in products with surrender periods of 10 years or more.
The National Association for Indexed Products (NAIP) is founded, later becoming the National Association for Fixed Annuities (NAFA).
The year ends with greater than $4.2 billion in sales, and the number of carriers offering FIAs reaches 47.
"When you've seen one indexed annuity, you've seen one," says one actuary. "They're all different." The year ends with more than 20 different crediting methods in place and surrender periods ranging from one to 15 years.
1999
The S&P 500 closes the year at 1469, up 20% from the previous year. For the first time, the agent channel sells more than 90% of all FIAs — a distinction it will keep until 2010 — as Wall Street proclaims a new paradigm in which a stock's value is not based on dollars earned, but rather on the number of clicks on the website.
American Equity is the first to add the Dow Jones Industrial index in the spring, and the Russell 2000 is added in the fall. The industry now offers 27 different crediting methods and four indices.
The year ends with more than $5 billion in sales.
2000
The S&P 500 peaks in March at 1527 and ends the year at 1264, down 17%. The millennium bear market has begun and will be the longest bear market since the Great Depression. The industry's response is to increase agent commissions. By the fourth quarter, 40% of sales are in FIAs with agent commissions greater than 11%, even though the high commission products only represent 10% of all annuities offered.
Conseco introduces the Simple Index using a trigger/binary crediting method. Allianz becomes number one in annual FIA sales and never looks back.
The year ends with greater than $5.25 billion in sales.
2001
Due to the falling stock market, the percentage of annuities sold using some type of averaging hits 66%, and the percentage offering an index term end greater than one year falls to 12%.
FIAs get more positive press. Business Week runs a story in the April 30 issue titled "A Bear-Proof Way to Ride the Market."
The S&P 500 ends the year at 1148, down 13% from the Year 2000.
The courts rule annuities are not securities in Beverly S. Malone v. Addison Insurance Marketing, Inc., [Civil Action No. 3:01-CV-259(H)].
"A problem which surfaced early when you talked about equity indexed annuities is that many people heard the word 'equity' and created unrealistic return expectations in their own minds. In point of fact then, isn't it more accurate to call these saving vessels fixed index annuities?" — Index Compendium
The year closes with more than $6.5 billion in sales.
2002
As the bear market continues, FIA sales continue to grow. The success of indexed annuities causes the National Association of Securities Dealers (NASD) to release an article titled "Equity-Indexed Annuities — A Complex Choice." The market share of FIAs with a premium bonus that was less than 10% when 2001 began now rises to 40%.
Utah issues Bulletin 2002-6, limiting an annuity surrender charge period to 10 years and a maximum charge of 10% for annuity contracts issued to people aged 60 and older. Thus begins the "10/10 movement."
The S&P 500 ends the year at 879.82, down a whopping 23% from the previous year. While FIA year-end sales exceed $11.7 billion, the number of carriers offering FIAs falls to 29.
2003
The percentage of sales in products with agent commissions of 11% or more falls from 50% of sales to just 4% of sales, but 87% of sales are in FIAs with surrender periods of 10 years or longer. Slightly lower bond yields push caps down to the 7%–8% range, but some annuities still offer double-digit potential.
In September, the National Association of Insurance Commissioners (NAIC) adopts the Senior Protection in Annuity Transaction Model Act to "…promote sales practices in the life insurance industry that result in recommendations to consumers aged sixty-five years or older on transactions involving annuity products that meet the insurance needs and financial objectives of senior consumers."
The year ends with more than $14 billion in sales.
2004
There are more articles in the general press warning consumers about FIAs, primarily in respect to a lack of liquidity. A few state securities regulators suggest that FIAs should be treated as securities. As bond yields edge up and many FIA caps reach double-digit figures, FIAs become more aggressively marketed.
The monthly cap crediting method is introduced.
The year ends with greater than $23 billion in sales, more than a 60% increase from the previous year. This success draws a great deal of attention from securities competitors.
2005
The year of the NASD turf grab, in January the NASD requested member firms to send in "All communications regarding equity indexed annuities including broker-dealer use material and correspondence."
In a May speech, NASD Vice Chairman Mary Shapiro says the legal distinction between a security and an insurance product is not always clear, and asks rhetorically, "What if the equity-indexed annuity is, in fact, a security?" In August, the NASD releases Notice to Members 05-50, which curiously does not expressly indicate that the regulator has jurisdiction over FIAs, but still requires broker-dealers to treat these products as though they do.
By the fall, more than a dozen states have implemented 10/10 rules. Consequently, the percentage of FIA sales with surrender periods greater than 10 years or those using a two-tier design drops to 46%.
The year concludes with more than $27.3 billion in sales.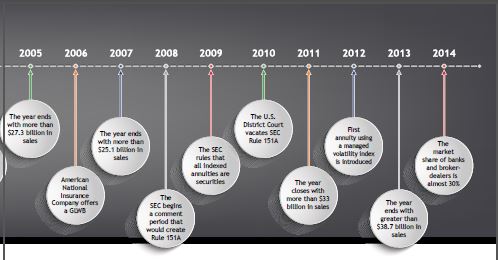 2006
A survey indicates roughly half of FIA producers are being impacted by NASD 05-50, with their broker-dealer either limiting the FIAs they may sell or taking a bigger share of their fixed indexed annuity commissions. Marketing organizations are also impacted, as broker-dealers restrict the number of marketing organizations with which they permit agents to do business. Marketing organizations are also affected by many broker-dealers adopting state 10-10 guidelines as a part of their indexed annuity approval process, so even when a marketing organization preserves a broker-dealer relationship, their producers may be limited to lower commission products with lower overrides.
In 2006, indexed annuity carriers averaged one customer complaint for every $119 million in premium sold. This compares with a rate of one complaint for every $614 million in premium in 2004, which means there were five times as many complaints in 2006 as there were in 2004. By contrast, for every one variable annuity complaint lodged in 2006 there were eight indexed annuity complaints, primarily predicated on the premium sold.
In March, the NAIC proposes the new Suitability in Annuity Transactions Model Regulation designed to cover all annuity consumers — not just those older than age 65.
In June, American National Insurance Company becomes the first indexed annuity carrier to offer a guaranteed lifetime withdrawal benefit (GLWB), and is quickly followed by the AmerUs Group (now Athene).
The year ends with greater than $25.3 billion in sales.
2007
On September 5, the U.S. Senate Special Committee on Aging held a hearing regarding "Advising Seniors about Their Money: Who Is Qualified — and Who Is Not?" Although the intent was to determine whether some financial industry designations might be confusing to seniors, the assault was to some extent against annuity agents, as well. On September 10, an SEC Senior Summit was held with the purpose of creating rules to protect older Americans from abusive sales practices. The participants included several SEC officials, five state security regulators, five Financial Industry Regulatory Authority (FINRA) representatives, but not a single insurance commissioner.
The year ends with more than $25.1 billion in sales.*
2008
On June 25, the SEC begins a comment period for File No. S7-14-08 that would create Rule 151A and classify index annuities as securities. At year's end, 82% of the comments are in opposition to making index annuities securities.
New to the indexed annuity arena is the Rainbow crediting method. It is an option basket in which the best-performing indices are weighted more heavily than those that don't perform as well. The rainbow marketing appeal is perhaps best expressed by saying that the annuity buyer gets to bet on the race after it has been run, and most of the bets will be placed on the horses that "win or place."
The year ends with more than $26.7 billion in sales.*
2009
In January, the SEC rules that all index annuities are indeed securities and must be treated as such beginning in January 2011. The insurance industry realizes this might affect FIA sales and decides to take action.
In September, the Arkansas Insurance Department and the Arkansas Securities Department issue Joint Bulletin No-14-2009, "Sales or Investment Advice Related to Securities Products by Insurance Producers." This bulletin quickly becomes perhaps the most noted and misquoted piece of annuity regulation in recent history.
"Real World Indexed Annuity Returns" is published, the first peer-reviewed study of actual indexed annuity returns.
The year ends with greater than $29.5 billion in sales.*
2010
Complaints plummet. In 2007, indexed annuity carriers averaged one customer complaint for every $109 million of premium sold. However, by 2010, complaints had dropped by roughly 75%, with one complaint for every $404 million of premium.
The U.S. District Court vacates SEC Rule 151A (American Equity Investment Life Insurance Company v. Securities and Exchange Commission).
Congress says the Dodd-Frank Wall Street Reform and Consumer Protection Act preserved index annuities as fixed products and not securities. Iowa Democratic Senator Tom Harkin made a closing buzzer shot changing the Dodd-Frank Act. The act was signed by President Obama on July 21. The language on index annuities is contained in Section 989J.
The year ends with more than $33.1 billion in sales.*
2011
Carriers struggle with a lackluster stock market, low bond yields and the resulting low caps. GLWB riders drive sales, but roll-up rates and payout rates are also being cut due to low bond yields.
Iowa releases Insurance Bulletin S-14 and its companion, Securities Bulletin 11-S-1, to offer guidelines on what nonsecurities-registered agents can say about the investment world and what noninsurance-licensed securities reps and advisors can say about the annuity world.
The year closes with more than $33 billion in sales.*
2012
Low bond yields continue to negatively impact caps. In response, Security Benefit introduces the first annuity using a managed volatility index. Also in response to low yields, carriers begin offering GLWBs with a stacked rate that adds a guaranteed percentage on top of whatever interest is earned when determining the future income.
The year ends with more than $34.2 billion in sales.*
2013
In May, the Federal Reserve says, "Honest, someday we will quit buying our own bonds." This time the financial world believes them and interest rates — especially 10-year U.S. Treasury rates — take off. By fall, many FIA caps are in the 5% to 6% range and sales take off as well. Fall sales are also strong due to a new managed volatility strategy without a hard cap on returns.
The year ends with greater than $38.7 billion in sales.*
2014
FIAs begin the year with a strong story and a consumer audience that is becoming more and more receptive to the use of annuities in retirement. The market share of banks and broker-dealers is almost 30% — the highest level it has been since 1997. The future is bright, but some old shadows are still looming.
In May, Kansas releases Bulletin 2014-1, making it clear that marketing organizations are responsible if they violate K.A.R. 40-9-118, which includes a provision against making "exaggerated and unsubstantiated claims regarding the benefits of a product."
In September, Iowa releases Bulletin 14-02, reminding annuity players that misleading consumers about what annuities can do is a violation of regulations and they are subject to administrative action and penalties if the marketing is unfair and deceptive.
The year ends with sales estimated at $47 billion.*
Looking Forward
Since 1995, roughly $400 billion in fixed index annuities have been purchased by millions of consumers. The non-complaint percentage of indexed annuity owners is 99.994%, demonstrating that people are happy they bought an indexed annuity. More than $100 billion of lifetime income has been guaranteed by indexed annuity carriers, which will help to provide retirement security for a substantial wave of retirees. Carriers continue to innovate, adapt and excel in creating new solutions. It's been a great 20 years — may the next score prove to be even better.
*Sales figures provided by Beacon Research. All other sources are attributed to Advantage Compendium.
Tags: celebration, featured, fixed indexed annuities, markets, NAFA, S&P 500, timeline
WINK'S NOTE: Stay tuned– Wink will be holding a birthday bash for indexed annuities on February 5th with exciting promos all week long!!
Originally Posted at NAFA Annuity Outlook Magazine on January 2015 by Jack Marrion, Advantage Compendium Ltd.