Total Overall Indexed Annuity Sales and Best-Selling Indexed Annuities of All Time
March 31, 2015 by Jamie Johnson
At Wink, we have been tracking indexed annuity sales by insurance carrier each year since 1998 in our quarterly Wink's Sales & Market Report. Last year we thought it would be interesting to compile the year-end sales to see which carriers would be in the top ten for total overall indexed annuity sales from 1998-2013.  We are continuing the analysis this year by updating the "Total Overall Indexed Annuity Sales" data through 2014.
In reviewing the results, Allianz Life continues as the leader for Total Overall Indexed Annuity Sales with aggregate sales of over $83.7 billion.  Last year Athene acquired Aviva, propelling Athene USA to the #2 position while American Equity, Midland National Life, and Voya round out the top five sellers of indexed annuities over this 16-year period.

Wink receives many inquiries about which products are the best-selling indexed annuities of all time. We began tracking individual product sales of indexed annuities in 2006; last year we compiled these individual product sales to see which products were the top selling indexed annuities from 2006-2013. Accordingly, we updated the "Top Selling Indexed Annuities of All Time" to include 2014.
American Equity's Bonus Gold surpassed Allianz's MasterDex X and seized the title of "Top Selling Indexed Annuity of All Time" with nearly $13.8 billion indexed annuity sales. Allianz's MasterDex X and American Equity's Retirement Gold are the second and third highest selling indexed annuities;  Allianz's MasterDex 10 and Voya's Secure Index Opportunities Plus finish in the top five.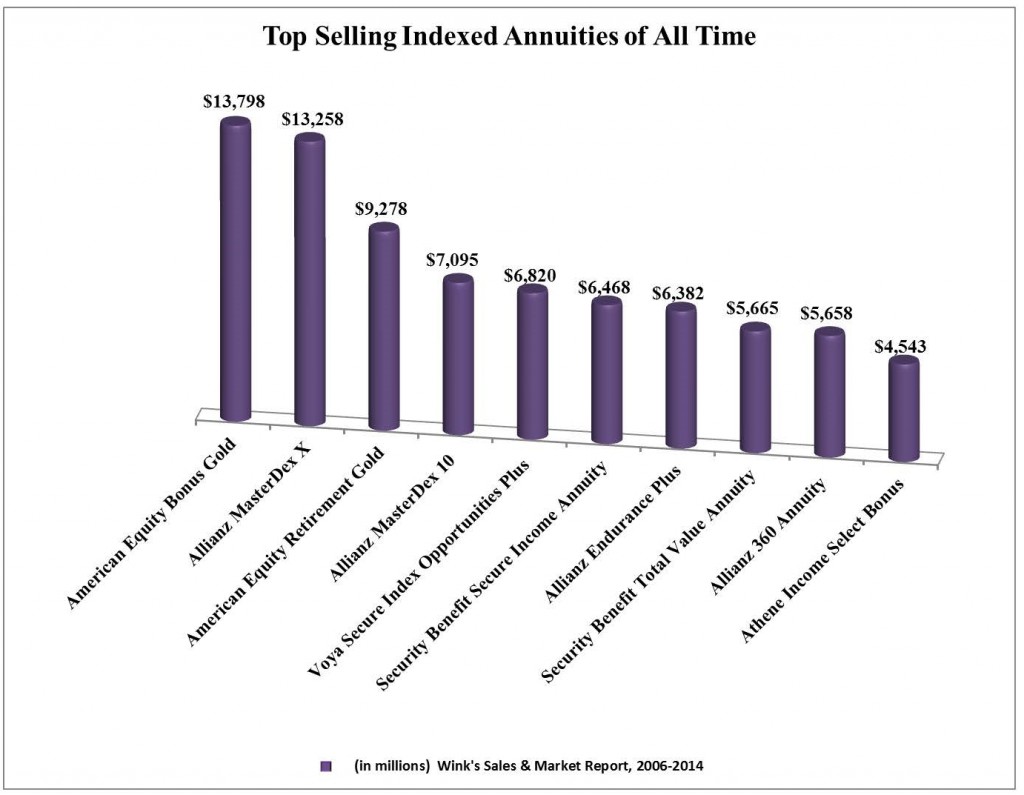 Stay tuned! Next up we'll be compiling the Total Overall Indexed Universal Life Sales and Top Selling Indexed Universal Life of All Time!
Each carrier reports their quarterly sales to Wink to be published in Wink's Sales & Market Report. Updates to our "Total Overall Indexed Annuity Sales and Best-Selling Indexed Annuities of All Time" blog will be made following the full release of the 4th Quarter, Wink's Sales & Market Report each year and located at: https://www.winkintel.com/category/winks-blogs/