Wink, Inc. Releases Fourth Quarter, 2016 Indexed Life Sales Results
February 28, 2017 by Press Release

— FOR IMMEDIATE DISTRIBUTION —
NEWS RELEASE
Another Record-Setting Year for Indexed Life Sales!
Wink, Inc. Releases Fourth Quarter, 2016 Indexed Life Sales Results
Pleasant Hill, Iowa. February 28, 2017– Forty-eight indexed life insurance carriers participated in the 78th edition of Wink's Sales & Market Report. Fourth quarter indexed universal life (IUL) sales were $534.5 million, compared with sales of $541.5 million for the fourth quarter of 2015.  Fourth quarter indexed life sales were up 18.0% when compared with the previous quarter, and down just over 1.3% as compared to the same period last year. "It is hard to believe that indexed life continues to prosper with AG49 just in the rearview mirror!" exclaimed Sheryl J. Moore, President and CEO of both Moore Market Intelligence and Wink, Inc. She added, "This was not only a record-setting year for indexed life sales, but 4Q2016 was the second greatest quarter EVER in terms of sales!"
Items of interest in the indexed life market this quarter include Pacific Life Companies taking over the #1 ranking in indexed life sales, with a 12.1% market share. Transamerica, National Life Group, Minnesota Life, and Lincoln National Life rounded out the top five companies, respectively.
Transamerica Premier Financial Foundation IUL was the #1 selling indexed life insurance product for the twelfth consecutive quarter. The average indexed UL target premium reported for the quarter was over $8,671; an increase of more than 5.0% from the prior quarter. The average fixed UL target premium was $8,840; an increase of more than 50.0% as compared to last quarter.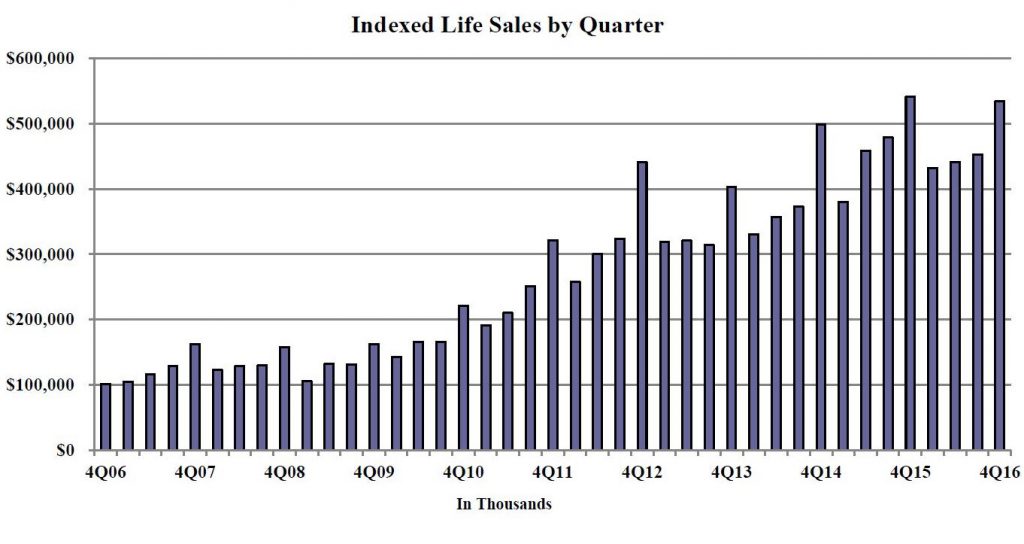 …………………
For more information, go to www.LookToWink.com
The staff of Moore Market Intelligence has the combined experience of four-and-a-half decades working with indexed insurance products. The firm provides services in speaking, research, training, product development, and marketing of indexed annuities and indexed life insurance. Their knowledge in product filing research and policy forms analysis, coupled with their unmatched resources in insurance distribution, give them the expertise to provide competitive intelligence that allows carriers to stay ahead of their competition.
Sheryl J. Moore is president and CEO of this specialized third-party market research firm and the guiding force behind the industry's most comprehensive indexed life and indexed annuity due diligence tools, AnnuitySpecs and LifeSpecs distributed by Wink, Inc. Ms. Moore previously worked as market research analyst for top carriers in the indexed life and annuity industries. Her views on the direction of the indexed market are frequently heard in seminars and quoted by industry trade journals.
Ms. Moore is the author of the quarterly Wink's Sales & Market Report. Serving as the insurance industry's #1 resource of indexed insurance product sales since 1997, this report provides sales by product, company, crediting method, index, distribution, surrender charge period, and more. Wink's Sales & Market Report expanded to cover all fixed deferred annuity products in 2015.
Wink, Inc. is the company that distributes resources such as this sales report, along with the competitive intelligence tools, AnnuitySpecs and LifeSpecs at www.LookToWink.com.
Originally Posted by Press Release.