NAILBA Announces New Awards for Independent Distribution
September 11, 2019 by Pam Sheehan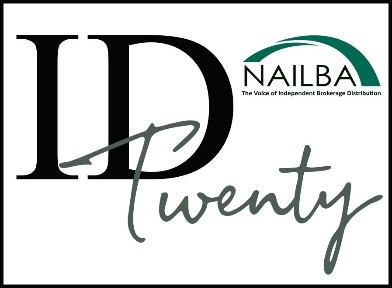 For Immediate Release                                                               
Contact: Pam Sheehan
                                                                                                            Phone: 303-503-6305
                                                                                                            Email: PSheehan@nailba.org
NAILBA Announces New Awards for Independent Distribution
Seeking Nominations for 20 industry innovators and trailblazers
(Fairfax, VA, September 3, 2019) NAILBA, the Voice of Independent Distribution (ID), has announced the creation of the ID Twenty Awards. Honoring Independent Distribution's most courageous innovators and visionaries, NAILBA is seeking nominations from the industry for twenty insurance professionals who have made important contributions to the insurance profession.
"NAILBA's ID 20 Awards is an exciting campaign for us'" explains NAILBA CEO, Dan LaBert. "With the continued growth of independent distribution, we can now honor twenty of the trailblazers, change-makers and everyday contributors who maintain a passion to improve our profession year after year."
Anyone from the industry is eligible, from business leaders to techies, to marketeers and operations gurus within BGAs, Carriers, and vendor companies that support independent distribution. "These awards celebrate heralded and unheralded contributions by insurance professionals who inspire us with their intelligence, creativity, and leadership," stated LaBert.
Nomination forms can be found on NAILBA's website: www.NAILBA.org. All nominations are due to NAILBA by Friday, October 4, 2019, with the twenty winners being announced on Wednesday, October 9, 2019. Following the announcement of winners via social media and an industry press release, the winners will be recognized at NAILBA 38, NAILBA's annual meeting November 7-9, 2019, at the Gaylord Texan in the Grapevine suburb of Dallas, TX.
All winners will be presented with an award, as well as spotlighted in NAILBA's Perspectives magazine in the first quarter of 2020 and listed within an honorees section on NAILBA.org.
NAILBA is the premier trade association promoting financial security and consumer choice in the insurance and financial services marketplace through independent, wholesale brokerage distribution channels. As the largest community of independent agencies and advisors, NAILBA advocates for America's life, health, annuity, and other supplemental insurance distributors, while also providing resources, educational information and tools through its digital and print platforms.
###
Originally Posted at NAILBA on September 5, 2019 by Pam Sheehan.